Bad Breath??
Bad Breath??
Bad Breath??
No Need to Waste Money
on Expensive Treatment Programs
with
<![if !vml]>

<![endif]>™
It works from the inside out.
Neutralize bad breath at its source with this easy to swallow
capsule that works within the digestive system to eliminate
offensive mouth odors.

Finally, no more embarrassing moments when your date or mate
avoids close contact with you after eating garlic or other offensive
foods. Regular breath mints can only treat the surface of "yucky"
breath odors and not their source.
All Natural Ingredients

Good Breath goes directly to the source of these odors – the
digestive system itself! It doesn't just mask or cover up odors, it
helps to neutralize bad breath with some of grandma's age-old
natural remedies like parsley seed oil and sunflower seed oil.
Good Breath contains no sugar, starch, artificial flavors,
preservatives, dairy, corn, and is sodium and yeast free.

By simply swallowing 2 or 3 capsules, Good Breath starts to work
immediately on coffee, cigarette smoke or morning breath. Good
Breath ensures close encounters of the best kind with fresh
long-lasting breath whether you eat garlic, onions or spicy foods.

In addition to Good Breath, it is also very important to have daily
oral hygiene along with yearly dental visits.
Convenient Flip-Top Container of 60 Softgels
Only $11.99, Including Shipping and Handling
Not Available in Stores at the Present
Order Yours Online Now or Call Us Toll Free 1800-900-7724
Good Breath Formula - 60 Gelcaps
$11.95 / Price Includes US Shipping & Handling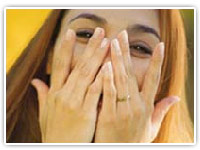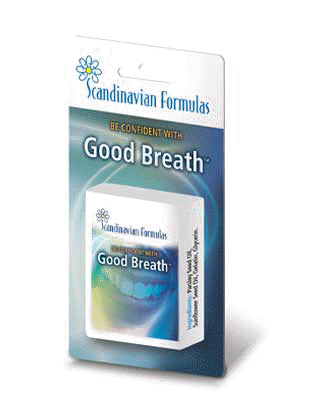 2 Box Special Offer! - 120 Gelcaps
$19.95 / Price Includes U.S. Shipping & Handling

Good Breath Formula / 60 Gelcaps
$18.95 / Price Includes Air Shipping & Handling to Any Country.
Information on this site is provided for informational purposes and is not meant to substitute for the advice
provided by your own physician or other medical professional. You should not use the information contained herein
for self diagnosing or treating a health problem or disease, or prescribing any medication. You should read carefully
all product packaging. If you have or suspect that you have a medical problem, promptly contact your health
care provider. Information and statements regarding this dietary supplement have not been evaluated by the
Food and Drug Administration and are not intended to diagnose, treat, cure, or prevent any disease.
Information herein from Intelegen.com and The Cancer Cure Foundation.