Restless Leg Syndrome (RLS)
& Leg Cramps
There is Help Now!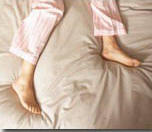 Originally defined by a Swedish neurologist in the 1940s, restless leg syndrome
is now thought to affect up to 15% of the population, particularly older people.
What is restless legs?
Restless legs syndrome (RLS) is a neurological disorder characterized by
unpleasant sensations in the legs and an uncontrollable urge to move when at
rest in an effort to relieve these feelings. RLS sensations are often described
by people as burning, creeping, tugging, or like insects crawling inside the legs.
Often called paresthesias (abnormal sensations) or dysesthesias (unpleasant
abnormal sensations), the sensations range in severity from uncomfortable to
irritating to painful.
What causes restless legs syndrome?
In most cases, the cause of RLS is unknown (referred to as idiopathic). A family
history of the condition is seen in approximately 50 percent of such cases,
suggesting a genetic form of the disorder. People with familial RLS tend to be
younger when symptoms start and have a slower progression of the condition.
The severity of RLS symptoms ranges from mild to intolerable. Symptoms get
gradually worse over time in about two thirds of people with the condition and may
be severe enough to be disabling. The symptoms are generally worse in the
evening and night and less severe in the morning. While the symptoms are usually
quite mild in young adults, by age 50 the symptoms cause severe nightly sleep
disruption that leads to decreased alertness in the daytime.
Four basic elements must be present to make the diagnosis:

1. A desire to move the limbs, often associated with paresthesia or dysaesthesia
2. Symptoms exacerbated by rest and relieved by activity
3. Motor restlessness
4. Nocturnal worsening of the symptoms
A
Natural Medication for RLS is now Available!
Do you or your bed partner suffer from RLS Syndrome? Now there's
a natural way to get relief – from day or nighttime symptoms – with
LOE Formula. This natural homeopathic medication is specially
formulated to help alleviate symptoms such as motor restlessness,
Itching, Tingling, Creepy-Crawly compelling urge to move the
legs, particularly while lying down, sleeping, or sitting still for long
periods.LOE Formula is economical, available without a prescription,
and will not cause side effects or drug interactions.
Ingredients: Folate (folic acid), Calcium (as calcium amino acid
chelate), Iron (as iron glycina), Magnesiun (as magnesium
amino acid chelate), Potassium (as potassium citrate),
Horse Chestnut Seed Extract.
Other Ingredients: gelatin, magnesium stearate (vegetable source).
Stop the Suffering,
Order Yours Safely Online Now!
Legs On Edge Formula - 90 Capsules - 30/60 Day Supply
$24.95 / Price Includes US & Canada Shipping & Handling

Special 2 Bottle Offer - $44.95!
$44.95 / Price Includes US & Canada Shipping & Handling

$34.95 / Price Includes Shipping & Handling to Any Country

This NaturalyPure web page is intended for general information and education only and not intended
 to diagnose, cure nor treat any disease. It is not a guide for self prescription. The author or the server
  management accept no responsibilities for the use or misuse of the  information this site contains.
    Information provided here-in by the manufacturer and other medical sources.
    The Food and Drug Administration have not evaluated these statements.