Goiterex
A Traditional Chinese Herbal Formula to Effectively Assist
Shrinking Goiter and Nodule Cases
Another common cause of goiter is Graves' disease. In this case, one's immune
system produces a certain protein called thyroid stimulating immunoglobulin,
this stimulates the thyroid gland to enlarge producing a goiter.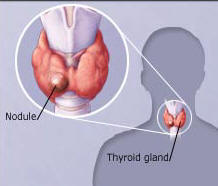 You Will Notice the Difference!
Goiterex is formulated with concentrated precious sea weeds and
herbs to assist the Thyroid health. Potent remedy for goiters and nodules problems to
maintaining the natural balance of the thyroid system.
Goiterex and Weight Loss: From time to time we do receive feedback from customers
who have noticed weight loss with Goiterex. This is due to the fact that their thyroid system did
not work properly, which may have made the person gain weight that he or she would not have
gained otherwise. Goiterex by all means is not a weight loss product, it will only help to that
end if your weight gain is due to thyroid malfunction and that can be determined by a doctor.
Directions: As a dietary supplement, take 2 pills, 3 times a day.

Warning: Do not use if you are pregnant or nursing. Not Recommended for those with
Hyperthyroidism and Graves Disease.

Ingredients:
Seaweed (Sargassum Pallidum) whole plant, Kombu, Sichuan fritillary, Tangerine rind,
Forsythia, Dong quai, Pubescent angelica, Ligusticum wallichii, Chinese licorice, Pinellia.

Packing: 200 pills - 33 day Supply.

What Customers are Saying About Goiterex
~ An Herbal Formula that Withstood the Test of Time ~

Order Yours Online Now, or Call Us Toll Free 1800-900-7724
Goiterex / 200 Pills - 33 day Supply
$29.95 + $3.00 US Shipping & Handling



2 Bottle Offer $59.90 - Includes US Shipping & Handling

- You Save $6.00

Goiterex / 200 Pills - 33 day Supply
$39.95 / Price Includes Air Shipping & Handling to Any Country.