Give Natural Support to Your
Adrenal Glands!
Adrenal glands, which are also called suprarenal glands, are small, triangular
glands located on top of both kidneys. An adrenal gland is made of two parts:
the outer region, called the adrenal cortex, and the inner region, called the
adrenal medulla. The adrenal glands work interactively with the hypothalamus
and pituitary gland, as well as secrete hormones that affect metabolism,
blood chemicals, and certain body characteristics. Adrenal glands also
secrete hormones that help a person cope with both physical and emotional
stress.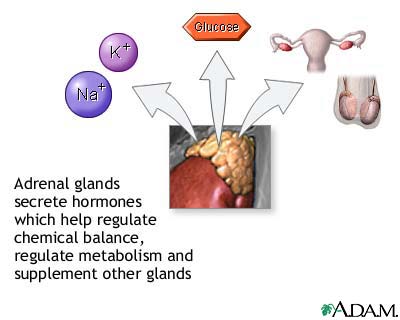 Support Your Adrenal Glands to Lower Stress
and Maintain Energy Levels
Strong adrenal glands are key to optimum stress relief. The adrenal glands
regulate the body's minerals as well as work with the thyroid gland to
produce and maintain energy levels. We are exposed daily to many
different kinds of stress including emotional, physical, environmental
and work related stress.

Dietary factors such as refined and over-processed foods,
preservatives, and pesticides are also stressors. These stresses make
the adrenals respond naturally by producing extra amounts of
hormones for energy. However, long periods of stress cause the
adrenals to work overtime, eventually robbing the body's reserve of
energy and nutrients – which can create adrenal fatigue and
chronic tiredness
What is Adrenal Fatigue?
Adrenal fatigue is any decrease in the ability of the adrenal glands to carry
out their normal functions. This happens when your body is overwhelmed
(as in coping with chronic illness), when stress overextends the capacity of your
body to compensate and recover. Consequently, the adrenals become
fatigued and are unable to continue responding adequately to further stress.

Adreno Trophic Formula
Adrenal Nutritional Support
Adreno Trophic Formula is a scientifically advanced stress recovery
formula. It goes far beyond the typical 'stress formulas' and 'cortisol neutralizers'.
Rather than just lowering cortisol, Adreno Trophic unique formulation naturally
nourishes adrenal function, and supports the balance of cortisol, DHEA
and other important hormones, which can help your body fight the
effects of daily stress!

The systems our bodies use to handle stress are complex. Central to those
systems are the adrenal glands. The adrenals rely heavily on proper nutrition
and require a significant amount of nutrients to produce healthy levels of hormones.
They also require rest time. Unfortunately, many of us don't get enough rest to
recover from high levels of stress hormones that are released in our bodies.
Our adrenal glands become worn down, and the result is adrenal fatigue.
Supporting the Adrenal Glands for Better Health and Vitality
It is crucial to support the normal function of the adrenals to enjoy good
health and vitality. Lifestyle changes including proper nutrition and reduced
stress, are important. Adreno Trophic Formula has been developed to provide
potent supplemental support for your adrenal glands,

The Synergistic Ingredients are:
Pantothenic Acid....................................................... 50 mg.
Raw Porcine Adrenal Concentrate............................... 80 mg.
Other Ingredients: rice flour, magnesium stearate, gelatin.
Suggested Use:
1 capsules, 3 times daily or more, as directed by your
health care professional.
Help Protect Your Body Against Stress
Order Safely Online!

Adreno Trophic Formula - 100 Capsules
$26.95 /Price Includes U.S. Shipping & Handling

You May Also Order by Calling Us at 1800-900-7724
----------------- For International Orders ------------------
$33.95 / Price Includes Air Shipping & Handling to Any Country.

This NaturalyPure web page is intended for general information and education only and not intended
   to diagnose, cure nor treat any disease. It is not a guide for self prescription. The author or the server
   management accept no responsibilities for the use or misuse of the  information this site contains.
 The Food and Drug Administration have not evaluated these statements.